1 V 1 with Ballin' 4 Peace: Scott Machado
SCOTT MACHADO
PROFESSIONAL BASKETBALL PLAYER
It's safe to say that Scott Machado will never forget celebrating his 29th birthday and where he spent it. It was 2019 and the versatile point guard was in his third month with the Los Angeles Lakers after signing a 10-day contract fresh off of earning G-League Player of the Week honors with South Bay, where Machado had averaged an impressive 25 points, 14.7 assists, and 5.7 rebounds per game during a three-game win streak.
In partnership with "Chase Your Throne", a mentoring and motivational speaking organization, Machado teamed-up to help give back on skid row for the organization's third annual BBQ and day of service as the Queens, New York native gave out clothing, food, and water to those in need. For a player who has been heralded for his natural ability to pass the ball and see the floor vividly, the occasion just might have been the biggest assist of Machado's outstanding career. 
"Giving back and helping people in the community is something I enjoy...I really am just doing what I can to help others and shine a positive light into this world," Machado said, reflecting back on his birthday and the community outreach event in Los Angeles.
In this "1 V 1 with Ballin' 4 Peace" interview series, we go one-on-one with Scott Machado to talk about his evolution from an undrafted rookie out of Iona College, reaching the NBA, what he learned by competing in the G-League, becoming a fan-favorite playing in Australia, gaining respect in the TBT, life away from the game, and where his strong determined confidence comes from…
We have a lot of basketball to talk about, but before we do that can you share a little bit about how you came to know about Ballin' 4 Peace and the outreach being done there?
It's really been from Haron (Hargrave) and all of the work that he has done through basketball. I first met him while I was in high school and had watched him play. My coach at the time, Rob Jones, introduced us and from there Haron helped get me into some of the top streetball games around the city -- EBC, Kingdome, Dyckman, Hoops In The Sun. I was playing locally but not in any tournaments like that. That's how my playing street basketball really began. He took me under his wing. Haron was always looking for ways to bring the community together through basketball and making events peaceful. I wanted the same thing. Ballin' 4 Peace is something I fell in love with and what Haron has done with the organization is amazing.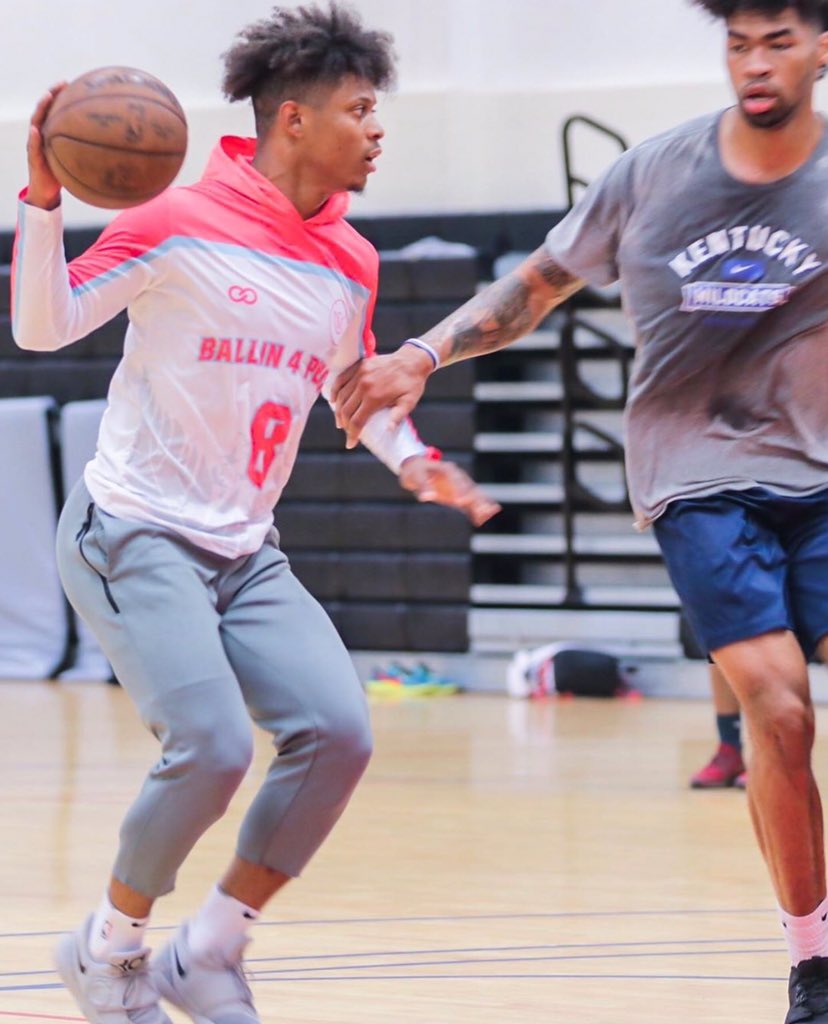 How did those summer tournaments around NYC and experiences motivate you to play at a higher level as a young player? 
I was always fortunate enough to play and while I may not have been the best player to get on the court during summer tournaments, it taught me to be aggressive and really hustle. I did the things that other guys don't like to do. That's how it really started. It was also a chance to play against older and stronger players that helped me create a more fearless mentality going to the basket. Streetball allowed me to be super comfortable no matter where I played. For me, that helped a lot. It's different than playing at a collegiate level. It just gave me more confidence because of the atmosphere you play in. That confidence for me also comes from being one of six kids growing up and having strong, driven parents. I have a deep faith and believe in Jesus Christ and feel that faith gives me confidence. I have also seen the change in myself in growing as an athlete and getting better. 
Growing up in Queens and then playing high school basketball at St. Mary's and St. Benedict's playing under Danny Hurley, at what point did you consider your college options? And was it a clear cut choice for you making a decision as a student-athlete where to attend? 
I always knew I wanted to play in college. That was something important for me because I watched my older brother do it, and my end goal was to eventually make it to the NBA. Even just to get to college and receive a scholarship to play a game that I love was huge. I am thankful for that. I think a lot about that even now as I have friends who had to take out school loans just to get through college. My freshman and sophomore years of high school I was getting recruited a lot and then it dropped off my junior year. By my senior year, schools came back around and started recruiting me again. Being recruited was always something I put my mind toward, but that junior year of high school is probably where I was most discouraged. I wasn't sure if I would make it to a Division I school. I knew that something needed to happen. It wasn't my level of play because I kept growing and growing. There were very few schools that stayed onboard with my recruiting process and Iona was the school that stayed loyal to me all four years of my high school career. 
What's the first thing that comes to mind when you look back on your time playing at Iona? 
Just being a constant underdog at Iona. Not just me, but the basketball program. They were always well-recognized in athletics like cross country running, but in basketball they were always fluctuating. I think they were coming off a 2-20 season I believe and the winning mentality just wasn't there. But that all changed -- Coach Kevin Willard did a great job at reestablishing a winning mentality again. My first year was a battle. It was hard work from the beginning and no one was just given a spot (Scott earned his keep as a freshman at Iona by setting assists records and becoming the third player in program history to win the MAAC's Rookie of the Year Award). Each year I just proved myself and took my game to a new level, but even then I still had this underdog mentality. I just wanted to show and prove and make the most out of my time while I was out there playing. 
Did you realize then that you were playing a part in changing the program as Iona reached the NCAA Tournament for the first time since 2006? How close are you to the program now? 
Absolutely. Those were some of the speeches during the recruiting process about coming into Iona and being able to change the program around. That was the plan from the beginning and that's what we did. Each summer I usually go back, so this will be the first summer that I don't make it up there. I enjoy being around campus. I had thought about getting a basketball camp going but we'll have to look into doing that next year instead with everything going on. There's even some guys who are getting an Iona basketball club together, so former players can get together and play. I think it's a great idea and a way to keep the basketball community of Iona together. It gives it a fraternity type of feel. 
After everywhere you've gone and played since Iona -- from the G-League, to overseas, and the NBA -- does it feel like that long ago that you graduated and were planning to start your professional basketball career? 
It doesn't feel like that long ago. I certainly have times where I look back on Iona and it's very vivid. I also look at the amount of time that I have been away and what's happened since leaving Iona, then yes it feels like a long time. I grew so much at Iona. Even though they set me up for being a professional as much as possible, I wasn't aware how your love for the game is very different from just the business side of basketball. I had to learn that quickly. We don't play this game for the business side. I've been playing the game since I was 3 years old. That's when you think about how much you love it. The game has taken me everywhere. 
You mentioned having to learn about the business side of basketball. How did that transpire from when you first started to now entering your eighth year as a pro?
It has been a different experience everywhere I have been. Even when you feel like you have learned something and understand it, it's not always about your love for the game. It's about producing. That's what's most important. I am at my best when I am enjoying the game instead of stressing about all of the things I need to do. If I go onto the court like that, I just put a lot of pressure on myself. I know what I am capable of doing and what needs to be done. I get into the gym and sharpen my game up for a reason. And then when it comes to the show you have to go out there and perform the best that you can. I learned that early in my career after getting cut by the Houston Rockets. Not being able to play with them as much as I wanted to was confusing to me. As for overseas, some things are within your control and some things are out of your control. Not every place has a player's union to protect you. That is a key thing. You also get to a country where you are taking everything in, from the culture to picking up a new basketball system and not being over there with friends or family. The pressure really is on you because you were brought there to perform. It's a great experience, don't get me wrong but it's not for everybody. You have to be open to new ways and new routines.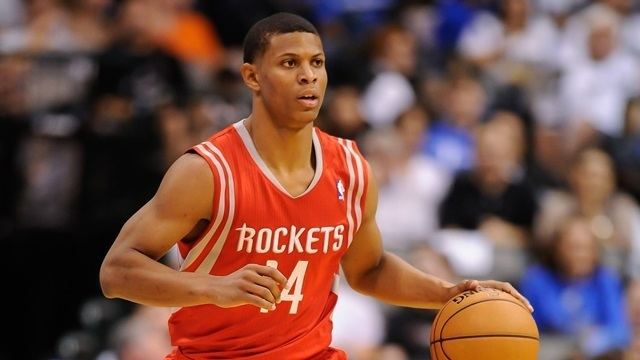 You have really seen the transformation of the D-League to the G-League and playing in developmental programs from Rio Grande, and Santa Cruz, to Idaho, and South Bay. What are your impressions of the G-League and what's your biggest takeaway from those stops? 
I approach it differently. When you are on an NBA roster and they are sending you down as an assignment, the best thing to do is get clarity on what you need to work on exactly. You can't assume that the coaches and front office speak about what they want you to do when you are sent down to the G-League. You have to make yourself aware of what they want from you. That was my initial reaction when I first went to the G-League. I think one game I went down and I nearly had a triple-double. The following day I received a phone call from the team informing me that's not what they wanted me to do. I can't even remember if we won or lost the game, but that's something they asked of me. I just didn't have clarity of what they wanted and I didn't feel like it was up to me to seek that. And that's what I learned from the G-League experience: what you do to get you to the G-League or that point in your career is what's going to translate to bring you up to an NBA team. When you are in the G-League, you should focus on what you are really good at and not try to do too much. That's how a team can determine what they need from you. There are already players in the NBA that can do it all. It's rare that they'll grab someone from the G-League and just let them go to work on the floor. Teams and coaches are looking for specifics to help the team. When I returned more recently to the G-League, I focused on making sure my energy was high and that I was ready to come in as a guard or a back-up point guard. 
Playing in the G-League, were there certain guys or coaches that you leaned on for advice? And now that you are a seasoned vet in some ways, are there younger guys who come to you for advice on how to navigate their careers? 
The first time around probably not, and a lot of that had to do with my stubbornness. I felt like I was capable of being in the NBA and had the proper people around, but I wasn't sure who I should go to or seek that clarity that I needed. That's because anywhere else I had been, that was already provided for me. I knew what was needed from me. But when a team is unhappy with you as a player, they're not specific about what would make them happy. In all of my G-League experiences I've had great coaches, but there's a big difference from when I first started. Now I seek out that clarity. That's the only way you know what you really can do or what you can do better. For me, I've had the chance to speak to young high school players at St. John's prep and share some of things that I've been through to help. I've also talked to about 300 kids in Australia and explained my experiences, and then just let them ask a lot of questions. 
Last season in Australia you earned the NBL Fans MVP after both endearing yourself to basketball fans in Australia and with Cairns Taipans. Why do you think you came away as the "people's champ"? 
I am coming into a stage in my career where I am comfortable and understand my game. I can keep growing, but the things I am good at I just continue to sharpen. I've always been consistent with the stats that I get and that comes naturally. It happens within the flow of the game. Now I know going into games how teams are guarding me and I pick that up faster. In Australia, it was just a different feeling. I was playing the game within the game. I can slow the game more. The people in Australia just loved watching me play. My group of guys on that team in Cairns was fun. We had a bunch of young athletic guys and I just pushed the tempo and found guys. We played strong defense together as a group, in transition during the fast break, or just half court sets. I was just considered the head of the snake out there and that put me into the MVP race. While I didn't get the league MVP, the fans loved the way I played and felt I should have gotten it. The older I get the more in-tune I become with knowing which players we have and can work with. From there it was about us meshing together. I just knew that it had to work. We did some good things and the organization was really well run. Once the fourth game of the season hit, I knew we were going to be good after we defeated Perth at their arena. I knew we had something going with Cairns. 
What did it mean to you to compete in the The Basketball Tournament (TBT) this summer and how did competing with Armored Athlete make you a better player? 
We came into the tournament ready to compete. In the TBT, I saw a new defender every 4 or 5 minutes. That hasn't happened to me in a long time, but now I know how to make that adjustment. I find the solution and can make that adjustment. Against Overseas Elite in the game where we were unable to advance, I was in shock a bit. When they started throwing different defenders at me I took it as a sign of respect. I was more concerned with us playing defense and I knew on the offensive end we'd be fine. But in the TBT I learned that I need to sharpen these different aspects of my game. It was certainly another challenge for me. This is my third year playing TBT and I actually preferred this style of the set-up with having to be in the bubble. Normally you are grouped together with a bunch of guys and don't have the chance to train together and you just go out there. But this year we needed to do five days of testing and remaining in the bubble. It really was about staying together with your team, getting to know each other, and then going to compete alongside each other. It allowed us to get comfortable with each other on and off of the court. That's how we built our chemistry and came onto the court like we'd played basketball together for a long time. 
Now you're switching your mindset to training and looking forward to the upcoming season. What is your training schedule like these days? 
I am in North Carolina right now. I am working on playing off of the ball and creating without the ball. I am working on my mobility, flexibility, and athleticism and making that my focus leading up to August. From there we'll see how offers and contracts that come in. I will take a short break and then get back at it with workouts and skills training. 
What is life like away from the game for you? Where do you put your energy into? 
Giving back and non-profit work is important to me. Last year on my birthday I was able to put together a clothing and food drive in Los Angeles on skid row with "Chase Your Throne". Giving back and helping people in the community is something I enjoy. I've also had good talks with a clothing company in Australia that wants to work together and put together a clothing line of mine. That's an interesting storyline and is something I am working on right now. There are also basketball-related projects that I'd like to work on with camps and clinics. There's been a basketball program in Brazil that reached out to me to let me know their program has been shut down because they don't have basketballs and things to help them play. That one hit home. I really am just doing what I can to help others and shine a positive light into this world. 
Liquid error (templates/page.machado line 82): Could not find asset snippets/blog-card.liquid
DONATE TO BALLIN 4 PEACE
Since 20014, Ballin' 4 Peace has hosted charity sports events committed to raising awareness about acts of violence and establishing peace through sports within New York City and beyond. From the annual Ballin' 4 Peace celebrity basketball game, to our flag football and "Back to School" supplies drive with the NYPD, to the "Battle of the Boroughs" bowling party benefiting local charities in New York, our outreach efforts have been made possible thanks to your generous donations and support. Your contribution can make a life-altering difference as Ballin'4 Peace continues to strive for peace in our communities.
DONATE TO BALLIN 4 PEACE NOW